This isn't the first time they've appeared in the realm of art and books.  Monsieur Duchamp himself might even approve!  Black Scat Books has come up with an original take on toilets with Adrienne Auvray's new book, Pissoirs, Bidets, Crappers and Thrones, out today, the first of May.  Happy May Day!
| | |
| --- | --- |
| | |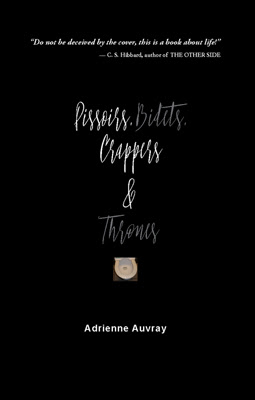 HAPPY MAY DAY!
Black Scat Books is flushed with pride to announce the launch of PISSOIRS, BIDETS, CRAPPERS & THRONES by Adrienne Auvray. This coffee table chapbook for the john features sublime, full color photographs taken by Ms. Auvray on her travels around the globe.
The author has devoted her professional career to the documentation and philosophical interpretation of toilets. A student of photographer Thomas P. Ünterbottem, she completed her dissertation at the esteemed Ünterbottem Academy in Stuttgart, Germany, in 1992. Her work has appeared in field journals such as The Lounge, WC-Time, and Heads-Up, and she has served as the Chair of the International Society of Toilets for the last five years.
This collection of provocative photographs is not merely a visual divertissement, but provides a visionary subtext and philosophical approach to life itself. Indeed,  this pictorial exploration and  explication d'image reveals our common humanity at its most fundamental.
After all, life is just a bowl.
Now available in both print and digital editions for collectors,  connoisseurs,  and the scatalogically curious.
PISSOIRS, BIDETS, CRAPPERS & THRONES
by Adrienne Auvray
with an introduction by Thomas P. Ünterbottem
5.25″ x 8.25″ – perfect-bound paper, 64 pp., illustrated
with full color photographs
Price: $15  /  Digital edition for  people on the go: $6
blackscatbooks
| May 1, 2016 at 12:03 AM | Tags:
absurdism
,
Adrienne Auvray
,
book
,
Philosophy
,
photography
,
Professor Thomas P. Ünterbottem
,
scatology
,
toilets
| Categories:
art
,
book
,
book launch
,
Event
,
Humor
,
News
,
Philosophy
,
photography
,
toilets
| URL:
http://wp.me/p2Ehml-1w4